---
Product Description:
Flydigi 2nd Generation Game Controller Gamepad Triggers - Left + Right comes with the second generation capacitance isolation mapping technology which is more sensitive and free. Double keys, four keys, free choice The main key can work independently to form a classic four-finger control, or it can be equipped with a secondary key, six fingers are all in control. Double primary keys combination .Classic four-finger control. Four-piece combination. Six fingers together to control the game *The attachment needs to cooperate with the primary key and cannot be used independently. Stinger2 inherits the advantage of stinger, all four buttons use micro switches, the key stroke is shorter and the trigger is faster, making the operation full of rhythm. The shape curve specially designed for the finger position of the mobile game, on the basis of the classic design of the previous generation, further increase the support for the last three fingers, hold the hand tightly, the hands are stable, and play PUBG. The position method is rapidly upgraded, and the flashing moves are completed in one go. There are more bee wings for effective heat dissipation, fully armed, the battle has not begun, you have won. You can play for about 80 hours when fully charged It only takes 1.5 hours to fully charge. Frosted PC + ABS shell, condensed with exquisite texture, is equipment, collection, and proof of advanced players
Product Features:
Second generation capacitance isolation mapping technology
The primary and secondary keys are removable design.
Full micro mechanical button Internal and external training, clear feedback.
Full finger support, steady hand gun Ergonomic modeling.
Active structure of head evolution Compatible stronger, no damage to shell membrane.
Maximum support 10.5 mm thick, 87 mm wide Compatibility is greatly improved compared to the previous generation.
Play PUBG's advanced equipment Multi-finger linkage with Wasp
Long battery life.
Small and portable.
Product Details:
1 Pair of Flydigi 2nd Generation Game Controller Gamepad Triggers - Left + Right
Customer Reviews
09/30/2020
mohit k.
India
Not working properly
Triggers tap automatically and most of time screen is not working because of them. After removing it screen working properly. Its quality is great but these are the problems. Please do somethin
09/22/2020
Raghav C.
India
09/21/2020
vignesh m.
United States
it sucks
triggers tap automatically even before i tap them its totally not worth of buying for 2999
Hi You can replace your triggers, these are the best triggers. So please don't worry Please contact Mail@furper.com
09/07/2020
vishal b.
India
very good product
super product very helpful
09/06/2020
Avadhut T.
India
Best Triggers.
Build quality is very nice. In one charge one can easily use it for 3-4 weeks.(daily 2-3 hrs) For brust mode, first record the frequency. i wish if company would have provided default 10clicks/sec. There is nothing special apart from brust mode, Think twice before spending money on this.
09/02/2020
Sagar r.
India
Controller
Really good quality
08/29/2020
shubham G.
India
Very good
Very good trigger. You can purchase
08/29/2020
Syed W.
India
Not working as expected
Product is not working properly and very uncomfortable to use. I had also raised a return claim but no response on that. Customer support is lacking with furper team.
Hi Syed, Please use our mail support Mail@furper.com and wait for reply 12 to 24 hours you will get reply
08/29/2020
Mayank B.
India
Value for money
Nice product must buy
08/29/2020
gagan d.
India
Amazing product
Superb monster touch
08/27/2020
Allwyn S.
India
Awesome tools
The product delivered was in good condition.
08/23/2020
Vinoth D.
India
Not working properly
Auto fire not working
Hi please make sure you update the latest firmware, if still having problem contact our team - mail@furper.com
08/17/2020
Md w.
India
08/15/2020
Jitendra C.
India
08/13/2020
vishal b.
India
product is not delivered
hi furper i am waiting for this product delivered and use to product after review plz fast delivery product i am excited for next shoping produt i am already added by my wish list but first product delivery is late to bhai second product ki ordar kaise du phela milne ke baad turant de dunga sorry for english language because muje english ati nahi hai tuta futa jod jaad ke jo likhna tha wo likh diya mera ordar diya huva product konse raste me atka huva hai ye to bata do yaar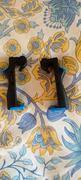 08/13/2020
Manpreet S.
India
08/13/2020
Aniket G.
India
good trigger
truest able Site without tension buying .
08/13/2020
Toby T.
India
Flydigi 2nd gen
Superr..... Nice set of trigger for pubg..more comfortable compare to the old model.
08/13/2020
Faraaz K.
India
Amazing Quality
First off all!! Hats off to furper!! Amazing service!! The product is really good! And works really well
08/01/2020
Jenish G.
India
Dilevery
Very fast delivery and awesome packing
Thank you jenish for the review.
---
Related Products